on Sun Aug 19, 2018 11:53 am
Name:

Gender:

Species:

Appearance:

Type:

Attacks:

Personality:

History:

Other:

_________________
The woods are now alive.
on Wed Aug 22, 2018 8:35 am
Name: Kumi
Gender: Male
Species: Chaerjan
Appearance: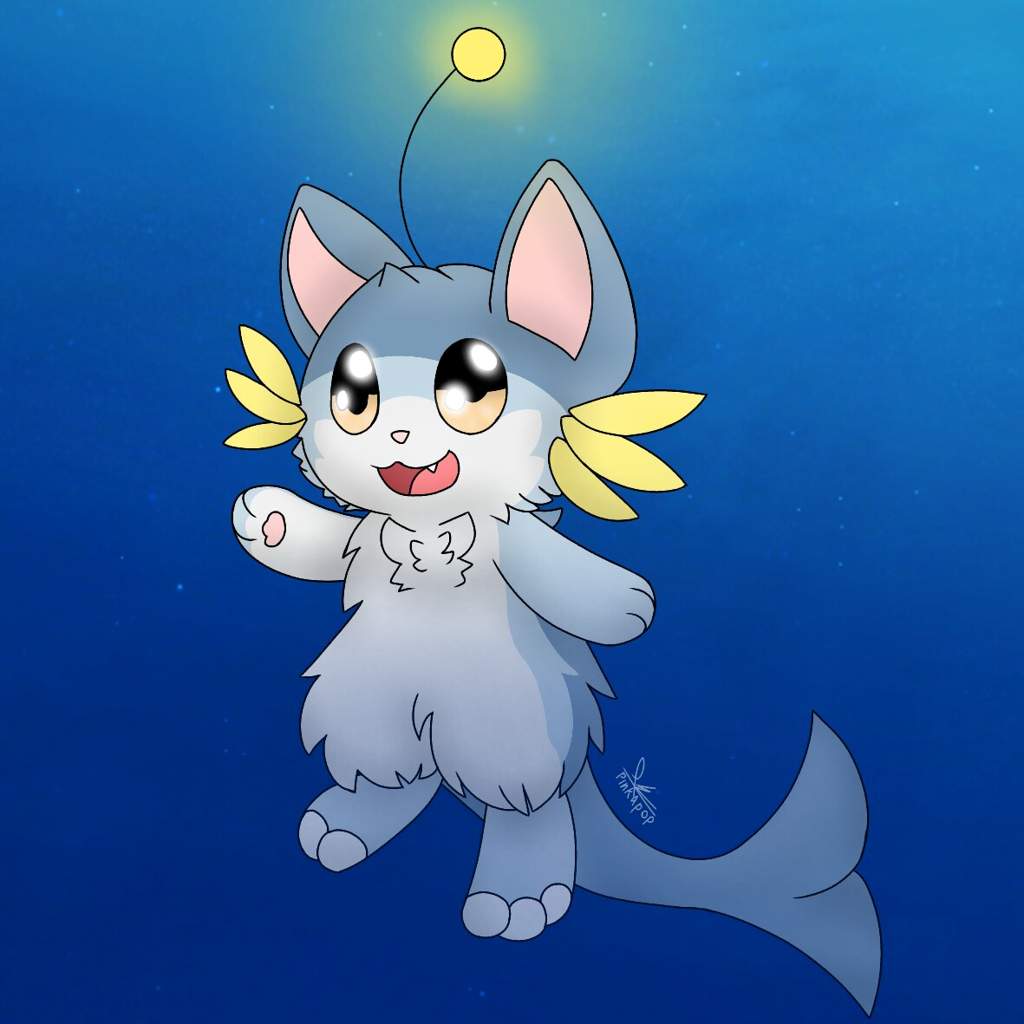 Type: Water
Attacks: Tackle, Scratch, Water Gun, Bubble, Aqua Jet, Aqua Tail, Quick Attack, Iron Tail, Whirlpool, Double Team, Charm, Attract, Bite, Aqua Ring, Bubble Beam, Hydro Pump, Surf, Water Pulse, Thunder, Thunderbolt, Thundershock, Spark, Dig
Personality: Kumi has been described as quick on his feet, feisty, impatient, a bit hard headed, and prone to snap decisions (usually not good ones). He often acts without fully thinking through the potential consequences until afterward which has left him in some tight spots in the past. But he's loyal, clever, and will fight you if you hurt someone he cares about. He does have a deeply emotional side to him, one that he doesn't make a show of too often; but if you ever see it you know he trusts you.
He's always excited to explore new places and show off what he's made of in a fight, even if he loses; and often spends time relaxing while swimming through the ocean in a "less than cautious fashion." He's never one to back down from a challenge and will accept any that come his way head on; regardless if he knows he'll lose just to show that he's tough enough to take it.
Kumi is normally the one who gets himself and his teammates into trouble for his hard headed-ness and jumping into things without thinking them through. He means well, despite all this and sometimes wonders why Keme and Koyu put up with him as much as they do. One could even say he has self-doubt and is worried that his friends will leave him. Underneath that feisty and hard-headed cat is someone who is afraid. He hides it well and again, only shows the deeper emotional side of him if he truly trusts a person.
He feels like he needs to meet up to his parents' standers and that puts a lot of weight and pressure on the young cat. He doesn't want to disappoint them in any way, thus he always tries to do his best, even if it does backfire on him more often then not. But with Keme and Koyu by his side, he knows they'll get through this just fine.
History: Kumi was born to an outlaw and a powerful Ikimono from the Silver Division. He was their only child. As he grew up, he noticed other Ikimono talking about him as he'd go by. They'd whisper just loud enough for him to hear. They wondered if he was going to turn to a life of crime like his mother was before she had met his father. The Water-type did his best not to let that bother him though. He wasn't going to let them see that their words made him uneasy.
One day, it got out of hand and he lashed out at another Ikimono, attacking them and injuring them. That was the final straw. No one trusted him after that. Everywhere he went, he got curd looks as if he was the worst thing on the planet. Kumi would scoff at this and walk on with his head held high like his mother had taught him. Yet, secretly, he was lonely. He wanted someone he could call a friend. Someone who wouldn't turn their back on him and hate him.
He got his wish. He ended up meeting a Denachu that had no memory of anything before he woke up, and a Russkal, who he had stumbled upon and they found the mouse together. Since the Electric-type didn't remember anything about himself or his name, they gave him one until he could remember his real one, which he accepted seeing as how he had no other choice unless he wanted to go around nameless.
The three Ikimono surprisingly became friends after that. They formed a team together known as Team Legend and began to do missions once they joined the Gold Division. Little did they know of the problem that was soon going to befall the world they called home.
Other: He'll speak in Diamond Blue.

_________________
The woods are now alive.
on Fri Aug 24, 2018 1:40 am
Name: Koyu
Gender: Male
Species: Russkal
Appearance:
Type: Ground
Attacks: Dig, Earthquake, Mud-Slap, Mud Bomb, Mud Shot, Magnitude, Quick Attack, Iron Tail, Bite, Crunch, Dark Pulse, Night Daze, Night Slash, Feint Attack, Hone Claws, Roar, Rock Tail, Shadow Ball, Sucker Punch, Payback, Beat Up, Brutal Swing, Assurance, Slash, Scratch, Tackle, Tail Whip, Double Slap
Personality: Despite his rather friendly and cute appearance, Koyu is anything but those two things. It's a rare sight to see this puppy act all cute and cuddly. He's quick to anger and he'll snap at others for the smallest and simplest of things. The Ground-type isn't one that makes friends easily, mostly due to the fact that he's normally as cold as an Ice-type and distant from others. His snappy nature normally doesn't help him much or the fact that he gets mad at anything. He's a tough shell to crack, but once you break that, you'll find a pup that's actually not as bad as he makes himself out to be. Koyu might not seem like it, but he does enjoy adventuring and seeking new places. He hides it will and will never admit it to anyone, not even his own teammates. He's normally the one who snaps at Kumi when he does something stupid and tries to get the Water-type to listen to him and gets annoyed when the cat just brushes him off and drags them off into trouble.
History: Koyu grew up in a different village outside of the main town. Because of being rather cold and unfriendly, the Russkal never had any friends. But that was fine with that. It bothered hem a small bit when he was younger, but he was quick to accept the fact that no one would ever like him. Due to being a Ground-type, he knew that he was supposed to be tough and that was what he set out to be. Even with his small size, Koyu was determined to show others that he was strong and that no Ikimono should mess with him.
He was picked on for being small and wimpy even with all his attempts. This only fueled the canine's fire. He was going to prove them all wrong. While he was stomping away from some Ikimono that snickered and jeered at him, he stumbled across a Water-type cat Ikimono who looked like he wasn't much better off than he was. Koyu snorted and was about to continue on when his keen eyesight spotted something under a tree.
Upon getting closer, the Ground-type noticed a Denachu laying slumped up against it. He rolled his eyes as the annoying cat asked if he was alive. He snapped at him to check it himself and the feline did. No sooner had he done that, did the mouse wake up. The Electric-type was in a panic at first, looking around with fear and confusion in his eyes before the rested upon the duo.
They asked him a few questions and it appeared as though he had no memories of anything. Not even his own name. Koyu rolled his eyes at that as he opened his mouth to make a retort before Kumi beat him too it, given the rodent a name until they could figure out what his real one was. The puppy soon found himself being dragged along with the two without much say in the matter. He was forced to join their stupid team that was called Team Legend; a name that was so cheesy it made him gag. Nevertheless, he was forced to put up with it.
All Koyu could do was to wait and see what was going to happen. Little did he know that in joining Team Legend, they had kickstarted their world saving adventures.
Other: He'll speak in brown.

_________________
The woods are now alive.
on Fri Aug 24, 2018 1:58 am
Name: Keme
Gender: Male
Species: Denachu
Appearance:
Type: Electric
Attacks: Thunder, Thunderbolt, Thundershock, Iron Tail, Quick Attack, Electro Ball, Volt Tackle, Spark, Nuzzle, Discharge, Dig, Volt Switch, Tail Whip, Charm, Attract, Thunder Wave, Slam, Wild Charge, Double Team, Charge Beam, Grass Knot, Shock Wave, Thunder Punch, Electroweb
Personality: He is a kind-hearted Denachu. Keme is a bit shy and timid most of the time, mostly around new people, or in a large group. However, if someone is in need of help, he'll go and help them. This sometimes gets him into trouble and enemies can use this to get what they want from the little mouse, so he must be careful. He tries to stay calm and level-headed, but he tends to become nervous if he feels he's being pressured into something. He can't bring himself to kill others and large amounts of blood frighten him. The little mouse will jump in to protect his friends if they're in danger. He will fight, even to the death if he must, to protect them.
History: Sadly for this little Denachu, he couldn't remember his past. Everything was a blank to him. The first memory the little mouse had was waking up to see a Russkal and a Chaerjan staring down at him. He was surprised to say the least and stumbled back from them, asking them who they were. He learned that the Ground-type puppy was called Koyu and the Water-type cat was known as Kumi. He was asked who he was and what had happened to him, but then he realized that he didn't remember a thing. He told them that he didn't remember anything. Not about himself, where he was, anything. Not even his own name. This caused the Water-type to give him a name until he remembered his own. He called him Keme, and he gladly accepted it.
Before he knew what was happening, Keme found himself being dragged to a place called the Gold Division. He joined without having much of a choice, being told that this was a way to help him figure out who he was and what had happened to him. Seeing as he had no other choice, he accepted the offer. They were told they needed a name for their new team. It was left up to him to come up with one for them. He picked Team Legend, finding it fitting for them, much to the others' disapproval, but they agreed to it nonetheless.
After that, the group began to work for the Division, doing whatever they could to help out other Ikimono that were in need of it. Yet, he couldn't have even begun to imagine what adventures and horror he and his team were going to face along the way. It was terrifying to say the least, but he wasn't going to give up. This world was in danger and the little mouse was going to do everything he could to protect it.
Other: He'll speak in Electric Yellow.

_________________
The woods are now alive.

Permissions in this forum:
You
cannot
reply to topics in this forum